Hello there.
I'm back with my second project from the World Card Making Day challenges.
Again the challenge was from the Winnie and Walter Blog.
This challenge is to create a CAS card.
Kate from Winnie and Walter some awesome tips on making CAS cards and I have shared those below.
My tips for CAS cards are.....
Minimal! The less you put on you card means it has to be perfect as it will be easy to see even the slightest mistake.
Colour! White space doesn't have to be just white. Using coloured card or paper in large blocks can still be CAS.
Time! Take your time. Even a CAS card can take an hour if you want to make it perfect, and get the look you want.
Embellishment! Even CAS cards can have lots of added extras. Ink or paint flicks, sequins, Glossy Accents or Enamel Accents and heat embossing even die cuts can all add lots of important detail and texture to a CAS project.
I went with a Halloween theme to create my CAS card.
I first used my distress inks to create a halloween background color that I liked.
I then stamped the candy corn and bat images.
I wanted my card to have and interesting border between the color and
the withe layers, so I cut the border with one of my wafer dies.
This die reminds me of a curvy road
I didn't like the transition between the colored layer and the white
so I decided that some black would give some contrast between the two.
The sentiment is stamped in black and embossed.
Only about 8 more Halloween cards to go and then off to Christmas cards.
Thanks for dropping by
Teresa
I will be entering this card in the following challenges
Winnie and Walter WCMD 2016 - CAS with Kate
Simon Says Stamp Blog -
Monday Challenge - Halloween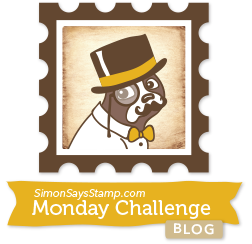 Simon Says Stamp Blog -
Wednesday Challenges - Halloween Inspired