Hi!!!
Spring is is full swing here in California.
Everything is so green and the flowers are blooming.
I've been trying to make time to create more.
Hopefully that means I will be sharing more.
Today I have Spring card that I made for my cousin that is going
through cancer treatment.
I just want to brighten her day and I will be sending her cards frequently.
For my project today I used some inspiration from the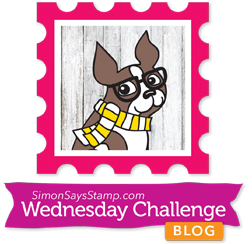 I was inspired by the magazine cover.
Those blocks of color overlapping each other.
I thought it would be a cool background.
I tried a couple different groups of blocks
but settled on using only two.
After I put most of the card together I felt the background needed something
I tried to stamp a couple flower images but messed them up...Ugh.
So.... Time to embellish. that is when I pulled out some flowers and covered my oops.
I love the added flowers. They give some more dimension.
I also popped the sweet Anya image off the background using pop dots.
Thank you for dropping by
Teresa
I will be entering this project in the following challenges
Simon Says Stamp Blog - Wednesday Challenge - Anything goes
The Greeting Farm - April Challenge - Bloom where you are planted
Paper Crafter's Corner -Magazine Mondays - Week 138